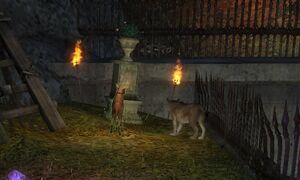 Wynthyst was a heavily involved member of the Guild Wars 2 community, editing wikis and lately working with Curse.com on their official wiki site. In 2014, Guild Wars 2 player Wynthyst passed away. In-game, ArenaNet created a new grave in an in-game cemetery. Further, the online wiki Wynthyst helped edit became a place of spontaneous remembrance. 
In-Game Memorials
Edit
Before Wynthyst passed away, ArenaNet honored Wynthyst's active role in the community by creating in-game NPC Wynn during the game's fourth anniversay celebration. 
After Wynthyst's death, ArenaNet created a new gravestone in the Ebonhawke cemetary in-game. A drakehound and tameable juvenile lynx stand nearby in remembrence of Wynthyst's affinity for animals. The inscription on the stone reads:

Thyst
1277-1327
Tireless scribe and friend to animals
she left her mark on Tyria
and is now at peace in the Mists
Wiki Memorial
Edit
The largest Guild Wars 2 wiki community keeps Wynthyst's wiki user page active (as of May 2015). Guild Wars 2 wiki users also greated a wikipage in her memory where users can leave words in her memory.