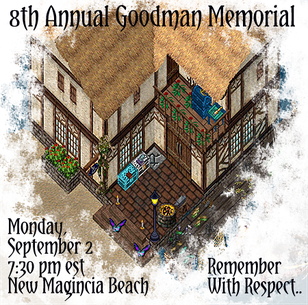 Goodman -- real name Frank Campbell -- managed a rune library in Ultima Online. The library required significant maintenance and upkeep.
Frank Campbell died on August 30, 2005. Upon his death, friends of Goodman/Campbell coordinated to preserve Goodman's library. They took over maintenance of the library, and they converted the roof into a memorial rose garden. In the garden, players leave objects and sign books to memorialize Goodman/Campbell's life (as well as the lives of others who have died).
Every year, around August 30, players meet on on Magincia Beach, Trammel, at Goodman's Memorial Library for a memorial service to remember Goodman and others who have fallen. The 2010 service is on Youtube.
Goodman's Rune Library
Edit
Details of the rune library as of 2010
Owner: Andrasta
Shard: Atlantic
Facet: Tokuno Islands
Coordinates: 38o 14'N, 38o 44'W
Directions: Go NW from Zento Moongate to the first road, turn right.
Type: Rune Library
Operational Status: Open
Details from UO Guide[1] Edit
Goodman's Rune Library is the legacy of Frank Campbell aka Lord Goodman who established his library on the shores of Magincia Beach. First on the facet of Felucca and later on the same beach in Trammel. Various locations over the years included branches in the Player Cities of Wintermoor & Dalriada, a Castle in Trammel, Luna and finally the deep Forest of Malas.
The Library continues to evolve and serve the Players of Atlantic. Proceeds donated to the library support the Libraries daily operational needs which are small and the lion's share goes to enrich the People of Atlantic.
Donations and support that are made to the Library are donated to worthy causes & prize monies to support the Community of Atlantic. Goodman's Rune Library looks for players and organizations that clearly contribute to the community by supporting new ideas and events for players to participate in.